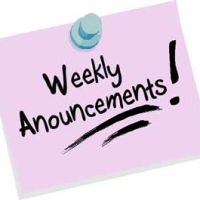 Weekly Announcements
Volunteers Needed - Centerpoint Youth Ministry is looking for dedicated volunteers to help build relationships with students on Wednesday nights. If you feel led to work with our teens, please contact Pastor Eric at the church office 731-2205 or eric@centerpointpagosa.com for more information and to get connected and impact the lives of our youth!!

Online CP Directory - We will be putting together a new church directory and need your help updating information. The new directory is available online. Please visit centerpoint.adjace.com to sign up for an account and update your profile All information is completely secure.

Moms In Prayer - Moms in Prayer will be meeting each Monday from 9-10am in the church library. Moms, please plan to come to pray for our schools and students.

Children's Ministry - Do you enjoy working with kids? We would love to have you as a helper for our Children's Church hour or our Children's Sunday School class. We already have these teachers in place and are looking for assistants for them. We are also in need of a 3rd-4th grade Sunday School Teacher. If you are interested in serving in any of these areas of children's ministry, please call the church office to get connected.

CP Cafe - The Centerpoint Café is in need of someone to set up and serve occasionally when regular servers are not available. If you would like to serve during this great time of fellowship on Sunday mornings, please contact Janet Kubelka at 970-382-1406 to get plugged in to this fun ministry!!

Main Street Bethlehem - Main Street Bethlehem is just around the corner, and we are looking for volunteers to be shop owners and village people. If you would like to be involved in this amazing Christmas Outreach, please sign up in the café. For questions and more information, please talk with Rena Pena.

Operation Christmas Child - Operation Christmas Child boxes are here and ready to take home to be packed!!!! Please be in prayer about filling a box or two or more this year for this incredible, impactful Christmas outreach ministry. We are excited this season to see how many boxes we can put together to send to children in need for Christmas.

Ladies Sunday School - We will begin a new study Sunday, October 28th at 9:00am in the church library on the Names of God. By studying and knowing His Names, Creator, Healer, Protector, etc., you will get to know Him better. Knowing Him better will transform your relationship with Him. For more information contact Donna Grindal at dgrindal@gmail.com or 264-0630.

Ladies Bible Study - The apostle Paul instructed Timothy to "guard the treasure." Are you guarding the treasure of God's Word that has been entrusted to you? By your life? By your words? Come join other ladies as we study 2 Timothy for 6 weeks beginning November 1st at 9:30am in the church library. For more information contact Donna Grindal at dgrindal@gmail.com or 264-0630.



















Back