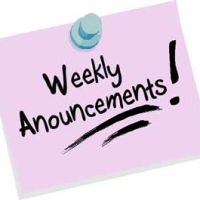 Weekly Announcements
Volunteers Needed - Centerpoint Youth Ministry is looking for dedicated volunteers to help build relationships with students on Wednesday nights. If you feel led to work with our teens, please contact Pastor Eric at the church office 731-2205 or eric@centerpointpagosa.com for more information and to get connected and impact the lives of our youth!!

Safety Team - Our safety team is looking for a few more volunteers to help with security, first aid and overall safety on Sunday mornings. If you would like some more information or are interested in being a part of this ministry, please call the church office @ 731-2205 to get connected.

Thursday Night Live (TNL) is our new middle school youth group for 5th - 8th graders. TNL will begin meeting Thursdays 6-8pm in the O.C. Coffee House (Church Basement). There will be a party on the 1st and 3rd Thursday of each month and small groups the 2nd and 4th Thursday of each month! Contact Pastor Eric at the church 731-2205 or eric@centerpointpagosa.com for more info.

ASPIRE - Reminder to be filling your Baby Bottles with your pocket change! They are due back on Father's Day.

New adult Sunday morning Study: The adult Life Group (Sunday School Class) will begin a new 5 week video series by Dave Ramsey beginning June 3 at 9:00 am. We will discuss how to handle our personal finances God's way and how to build a lasting legacy that will impact generations to come. Call the church office with questions or for more info.

LADIES SUMMER BIBLE STUDY: Ladies, come study 2 Corinthians this summer as we look at how to have confidence in the Lord and not lose heart even when we are falsely accused or persecuted. We will learn how to become ministers of reconciliation! The 7 week study is Thursdays at 10 am in the library. Childcare is provided, but please call the church office with the number of children you are bringing so we will have enough child care workers. If you have any questions, contact Donna Grindal at 264-0630 or dgrindal@gmail.com.

Habitat For Humanity - will be building a house June 8th—August 11th and is looking for volunteers to help throughout the various stages of construction. If you would like to serve our community by volunteering with Habitat for Humanity, or if you would like more detailed information, please contact Larry Parks @ 512-289-0593. Please see prayer request page for building schedule.

5-Day Club - is an exciting, fun-filled, one and one-half hour club held each day for five consecutive days. It includes: Bible lessons, creative learning activities, missionary stories, songs, Scripture memorization and games. Several teens have been trained to teach kids in a neighborhood setting. If you would like to host a five day club in your yard for the kids in your neighborhood either July 9-13 or July 16-20, please contact the church office @ 731-2205.

Our annual Carnival Workers Dinner - will be June 28th at 5:30 pm at the Community Center. We will need volunteers to set up, clean up and provide desserts, salads and deviled eggs. If you would like to help with this outreach dinner, please use the bulletin insert to sign up, or talk with Diane Sanford after the service.

LADIES! - We will begin a new study on Sunday morning, June 17 at 9 am in the church library on The Resolution for Women by Priscilla Shirer. In it , we will look at how we, as women, can intentionally embrace God's calling on our lives. Books are currently on sale in the foyer for $10.









Back