Marcio Garcia was born in the tropical city of Santos, on the coast of Brazil. Marcio came to Christ at the age of 17 while attending a Word of Life Bible Camp.
During the second year of Mechanical Engineering studies, he committed himself to the Lord in a deeper way, establishing a preaching point in the place where he was living. He was touched by the fact that almost 30 people came to Christ during the next couple of months, most of them students from the universities around.
While teaching and preaching on a short term evangelistic program, Marcio made the decision to enroll in Bible college to improve his Bible knowledge. He had one goal in mind – to reach the ones who had never had a chance to hear the Gospel. He also met Damaris during that short term program.
In the first year of Bible College (1981), God gave Marcio a vision to reach the 2,000 remote coastal fishing villages of Brazil. In December 1981 he put a team from his Bible College together and helped them to go to a fishing area, to spread the Gospel for four weeks. Damaris, his girlfriend at that point, was part of the team and she got the vision for fishermen during that trip.
From that time on Marcio and Damaris worked part-time, helping to plant churches in a several fishing villages for the next two and a half years. After they were married in January 1984 they got began to serve full time. They ministered to fishermen who lived in Pedrinhas, a tiny fishing village with no electricity.
During the next few months they traveled 400 kilometres by boat along the region's sea channels in and found 62 unreached fishing communities. This strengthened the burden in their hearts. At that time, only two couples worked in the ministry – Marcio & Damaris Garcia and James & Carmen Orr. Marcio's began to dream and plan for a missionary agency with the specific goal of reaching remote fishing villages.
In 1985 Marcio started meeting with several strong believers, sharing his vision and plans for the future. In 1986 that group founded EMAF – Evangelical Mission for Assistance to Fishermen.
Since then the work has been growing and developing in several different projects: church planting, Children Centers, Social work, Literacy Centers, medical and dental care, a school, a rehabilitation center for the people who are addicted to drugs and alcohol, giving parcel foods and clothes, providing better houses for those under poverty, digging wells and many other projects. The ministry has also been a place for "catching the vision of missions" for several people who worked in one or more of the short term programs held by EMAF. Some of those people are today missionaries in several parts or the world. About 1,000 believers have taken part in a short term team every year.
Marcio and Damaris live in Brazil and they have three daughters – Caroline, Juliana and Angélica.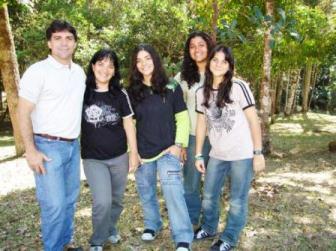 [
back
]